XML RSS NEWS TICKER with Horizontal and Vertical mode
Here I show You a great and powerful flash component called RSS / XML News Ticker. With this component You can load almost every RSS channel or XML files (with all languages / characters). Unique technology called customFeedMode gives You the possibility to read files with a custom structure. You can find out more features at below list.
Save your time and enjoy life!
* VERY IMPORTANT - Your feed file must be encoded in UTF-8
List of features:
supports RSS / XML channels
supports RSS auto-refresh mode
supports simple animation presets
can display horizontally or vertically
fully customizable – XML driven (no flash or actionscript knowledge required)
resizable
supports non-standard RSS feeds (thanks to customFeedMode technology)
supports any web fonts (in antialias / embedded text mode only)
support text with HTML formatting (font size, color, shadow [on / off ], hyperlinks etc.)
supports mouse-over events (slowdown or stop effect)
supports mouse-over effects (glow / outline / disable)
supports all languages (characters)
custom scroll speed
custom background color & transparency
can open links in new window or existing window (_blank / _self)
free updates
Technical requirements:
Flash player 10 or higher
Adobe Flash CS4 or higher
Structure of XML config file:
Additional information:
The file does not have a music/MP3 player (preview background music is not included)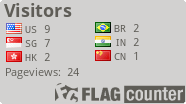 Keywords:
news ticker
, xml news, flash ticker, flash xml ticker, horizontal, vertical,
rss
,
ticker
, xml,
news reader
, news, flash news, rss flash,
rss reader
, feed reader