How the affiliate program works
Create an Envato Account

, then send traffic to any page on the Envato Marketplaces while adding your account username to the end of the URL.
When a new user clicks your referral link, signs up for an account and purchases an item (or deposits money) via any Envato Marketplace, you will receive 30% of that person's first cash deposit or purchase price. If they deposit $20 into their account, you get $6. If they buy a $200 item, you get $60.
Vector & Raster Marketplace Logos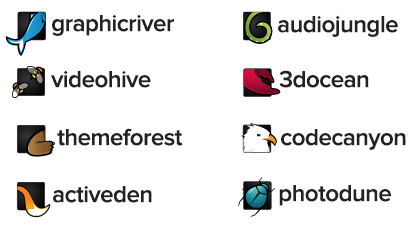 To help with referring users you may wish to use our logos. You can grab PSD and Vector EPS versions for our marketplace logos as well as the Envato logo.
Envato API logo

Logo for use in your awesome
Envato Marketplace API Applications
Referral banners
You can find a large variety of referral banners below for each marketplace!
Example VideoHive referral banners: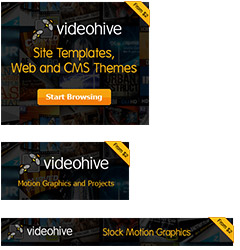 Find out more about our affiliate program
Relevant articles to increase your understanding of the Envato Marketplaces: